Group Book review: Kali Studies
Following a Kali ritual at this year's Queer Pagan Camp, a few people asked me to recommend books about Kali, so here's a quick round-up of some books that I've found useful in one way or another, particularly in helping me to get to grips with this complex goddess. This is a subject very dear to me, as it was a recurring dream of Kali, experienced back in 1982, which first led to my becoming interested in Tantra – so my devotion to Kali is very much at the heart of my tantra practice.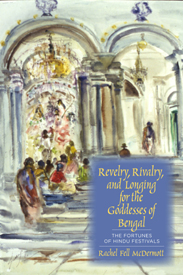 Revelry, Rivalry, and Longing for the Goddesses of Bengal: the Fortunes of Hindu Festivals
Rachel Fell McDermott's new book, just out this year from Columbia University Press is a fascinating study of three important yearly Bengali festivals dedicated to the goddesses Durga, Kali and Jagaddhatri. Rachel Fell McDermott describes the development of these large public festivals, their growth from the 1700s onwards, and their relationship to social power, aspiration and status, and the commercialisation of the modern "puja industry". She discusses how the representation of the goddesses has changed over time – and, in particular relation to Kali, what relationship modern representations of Kali bear to Her tantric past, and also highlights some recent controversies, such as the environmental impact of the pujas, and tensions over animal sacrifice; to the use of dirt from the doorways of sex workers in Durga Pujas.
Revelry, Rivalry, and Longing for the Goddesses of Bengal highlights the hidden history and politics behind the Bengali goddess festivals and the complex tensions over what constitutes "traditional practices". If you want to understand more about the history and workings of these large public festivals and how they relate to different modalities of Indian religosity, this book is an excellent place to start.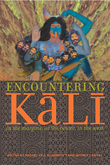 Encountering Kali: in the margins, at the center, in the West
This anthology of essays, edited by Rachel Fell McDermott and Jeffrey Kripal (published by the University of California Press in 2003) examines various aspects of Kali within a South Asian or a Western context. Contributions to this book range from Patricia Lawrence's fascinating field research on Kali worship in Sri Lanka against the backdrop of civil war, to Hugh B. Urban's review of Kali in the Colonial imagination, and Cynthia Anne Hume's Wrestling with Kali which focuses on British Colonial-era and South Asian portrayals of Kali and focuses in particular on Kali's imagery with respect to the so-called Thuggee cult. Also of interest is the fieldwork of Usha Menon and Richard A. Shweder, in investigating the local meanings of Kali iconography in the temple town of Bhubaneswar in 1991, and how those meanings have come to become associated with narratives that uphold Hindu family values – especially those encouraging female self-restraint and self-control. Roxanne Kamayani Gupta's Kali Mayi: Myth and Reality in a Banares Ghetto offers a poignant account of her meetings with a female Kali devotee; and how this illustrates the differences between how Kali is thought of by Western and Indian women. The final essay in the collection, Kali's New Frontiers by Rachel Fell McDermott, reviews how Kali is presented on the Worldwide Web, and discusses how the representation of Kali by Western feminists and New Age groups is, by turns, fuelling the rise of a new wave of critique of inappropriate cultural borrowings. Encountering Kali is an excellent collection of essays, and one which is well worth returning to, many times over.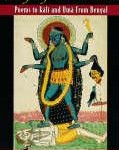 One of the many things I love about tantra is the sheer lyrical beauty of some of the goddess-oriented texts and poems. Rachel Fell McDermott's Singing to the Goddess: Poems to Kali and Uma from Bengal (Oxford University Press, 2001) is a collection of 145 Bengali lyric poems dedicated to the goddesses Kali or Uma, including forty poems by the famous eighteenth century sakta poet, Ramprasad Sen. Arranged thematically, and supported by illustrations and McDermott's short but erudite essays, this collection is a rich source of material for reflection, meditation and devotional moments. One of my favourites, which I've been using to meditate on Kali in my heart since the early 1980s, is this poem by Ramlal Dasdatta:
Because you love cremation grounds
I have made my heart one
so that You
Black Goddess of the Burning Grounds
can always dance there.
No desires are left, Ma, on the pyre
for the fire burns in my heart,
and I have covered everything with its ash
to prepare for Your coming
As for the Conqueror of Death, the Destructive Lord,
He can lie at Your feet. But You, come, Ma,
dance to the beat, I'll watch You
with my eyes closed.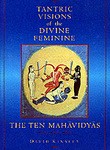 Some people who attended the Kali Puja have asked me where they can find out more about some of the expressions of Kali which were installed into the Kali Yantra – in particular, the Mahavidyas. Well, some of the attributes of the forms of Kali and their descriptions used in visualisation were drawn from the late David Kinsley's wonderful Tantric Visions of the Divine Feminine: The Ten Mahavidyas (University of California Press, 1997). Kinsley, who is considered by many scholars to be the founder of modern Kali studies, discusses the Mahavidyas as a group – reviews various origin stories and frameworks for interpreting them, and goes on to collect material on each of them in turn: Kali, Tara, Tripusundari, Bhunesvari, Chinnamasta, Bhairavi, Dhumavati, Bagalamukhi, Matangi and Kamala.
Web resources
There's a wealth of Kali-related material to be found on Mike Magee's Shiva Shakti Mandalam – in particular his pdf ebook The Magick of Kali – see http://www.shivashakti.com/texts.htm
See also Jan Fries' latest book Kali Kaula: A Manual of Tantric Magick which I reviewed last November and which features some excellent information on Kali and the Mahavidyas.