Group Book review: Indian Goddesses
As a follow-up to the group review of books related to Kali in August, I'm going to present short reviews of three books focusing on Indian Goddesses that I've found to be very useful – The Divine Consort: Radha and the Goddesses of India edited by John Stratton Hawley and Donna Marie Wulf; David Kinsley's Hindu Goddesses: Visions of the Divine Feminine in the Hindu Religious Tradition and Lynn Foulston and Stuart Abbott's Hindu Goddesses: Beliefs and Practices.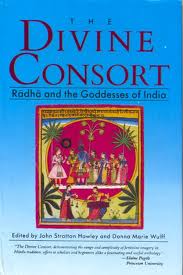 First up is The Divine Consort: Radha and the Goddesses of India edited by John Stratton Hawley and Donna Marie Wulf. The edition on my bookshelf is from Motilal (1995) – a 400-odd page hardback, with four colour plates (it was first published back in 1982, from Berkeley). The book is divided into two main sections. The first half of Divine Consort provides a multidimensional analysis of Radha, the consort (or mistress) of Krishna, ranging from early references to goddesses within Krishna-oriented religosity, Radha-Krishna as divine duality in Jayadeva's Gita-govinda; examination of Radha in Puranic texts, plays; through to representations of Radha in modern Hindi poetry. These essays shed much light on Radha and her relationality to Krishna, showing for example, that she is much more than a subordinate consort (see in particular Donna Wulff's essay on Radha in relation to the 16th century plays of Rupa Gosvami and modern kirtan performances). C. Mackenzie Brown for example, examines the emerging theology of Radha in the Puranas, noting the influences of both Samkhya and Sakta theology, whilst Shrivatsa Goswami reflects on views of Radha from the perspective of the Caitanya Sampradaya and the aesthetic play of Rasa.
The second section of the collection features essays on a diverse range of Indian Goddesses – some of which are said to be "consorts" – others, considered to be "independent". Highlights (for me) are Wendy Doniger O'Flaherty's considerations of the power-plays within Siva and Parvati's marriage, Thomas Coburn's introduction to the Devi-mahatmya, Diana Eck's examination of the Ganga as river/goddess; Edward Dimock's "A Theology of the Repulsive: The Myth of the Goddess Sitala" (see this post for some related discussion) and Vasudha Narayanan's introduction to the goddess Sri. There are also contributions from well-known scholars such as David Kinsley (Kali) A. K Ramujan (women saints) and Frederique Marglin ("Types of Sexual Union and their Implicit Meanings").
The Divine Consort is an excellent anthology of essays. If there's one central theme here, its the emphasis on the goddesses in relation – to other deities or to devotees – and its expression through the love-play of the goddess' power. Something I've occasionally found in pagan or occult texts which mention Indian deities is that whilst there's a strong focus on Siva or Kali, and much writing on either the (supposedly) "antinomean/transgressive" elements of Saivite tantra or goddess-focused Sakta tantra, the Vaisnava-Krishna-Radha oriented material, by contrast does not seem to be so "popular". I do find this rather strange, as its in the Vaisnava or Krishna texts, poems and plays that one can find some of the most extensive theological expressions and considerations of the power of love, longing and erotic mutuality and union. For an introductory glimpse into the rich love-play of Radha, as well as a wealth of fascinating essays on the diverse aspects of goddess traditions and praxis in India, The Divine Consort is a good place to start. There's a new version of this book out now, titled Devi: Goddesses of India (Univ. California Press, 1996) – however, only two of the essays from the edition I've reviewed here – the contributions of Diana Eck and the late David Kinsley are unchanged. Thomas Coburn, Donna Wulff and Vasudha Narayanan's essays have been re-written, and there are seven new essays. The focus of this new edition has shifted somewhat too – whereas the contributors to The Divine Consort are mostly working out of textual analysis, this new edition is more oriented towards ethnographic accounts of lived practice.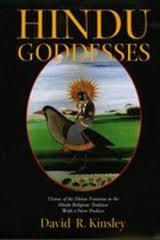 David Kinsley surely needs no introduction – he was a major figure in the academic study of Indian goddesses, and a book published last year by Cambridge Scholars Publishing (Sacred Geography of Goddesses in South Asia: Essays in memory of David Kinsley) hailed him as "the father of goddess studies" and many contemporary scholars have been deeply influenced by his work. I briefly mentioned his Tantric Visions of the Divine Feminine: The Ten Mahavidyas in the Kali Group Books Review. This time around, its Hindu Goddesses: Visions of the Divine Feminine in the Hindu Religious Tradition (University of California Press 1988, p/bk, 281pp) – also available for the Kindle or Adobe Digital Editions. This book, first published in 1986, is widely considered to be a "classic" work on Hindu Goddesses. The first chapter provides an overview of goddesses in Vedic literature, then there are chapters focusing on the more well-known Indian goddesses: Sri-Laksmi, Parvati, Sarasvati, Sita, Radha, Durga, Kali, and the Mahadevi. Kinsley also examines groups of goddesses – the Matrkas and the Mahavidyas. The final two chapters examine, respectively, the Goddesses and their relation to Sacred Geography, and "local" or Village Goddesses. There is also an appendix dealing with the Indus Valley Civilisation and the problems of extrapolating too widely about evidence for goddess worship from the little we know about it. The first chapter is a useful start for anyone interested in looking into the earliest textual evidence for goddesses in India, examining goddesses such as Vac, Ratri or Nirrti. The chapters on Sr-Laksmi, Durga, Kali, Parvati, etc., focus on textual and iconographic representations. For each goddess, Kinsley examines the development of textual sources, the progression of each goddesses' mythologies, and examines festivals, and how each goddess relates to wider cultural values and expressions. Kinsley was one of the first scholars to examine in depth the relationship between goddesses and the land, and whilst its easy to take this kind of material for granted nowadays, its not hard to see how ground-breaking his work was in the late 1980s. In Hindu Goddesses: Visions of the Divine Feminine in the Hindu Religious Tradition he eloquently expresses the diversity and richness of Indian goddess traditions in a way that few others have matched. Its an excellent work, and one for numerous re-readings.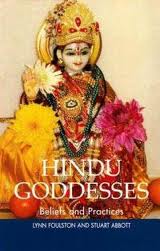 Finally, Lynn Foulston and Stuart Abbott's Hindu Goddesses: Beliefs and Practices (Sussex Academic Press, 2009, p/bk, 16 colour images) manages to pack a great deal into its 292 pages. The first chapter provides an introduction to the theological concepts of Sakti, maya and prakrti – and provides an introductory look at "essentially benign" goddesses such as Sri-Lakmsi and Sarasvati – and "essentially fierce" goddesses such as Durga and Kali. Next, Foulston & Abbott review textual sources – beginning with the Vedas, and moving through to the Puranas, with particular focus on texts such as the Devi-mahatmya. Chapter 3 focuses on key themes in goddess mythology, such as the descent of Ganga and the events around the destruction of Daksa's sacrifice (which I've been exploring in the "Sakti bodies" series). They also explore the relationship between local and localised pan-Indian goddesses. Chapter 4, in turn, examines Tantric goddesses – in particular groups such as the Yoginis, the Seven Mothers, and the Ten Mahavidyas, and also a brief introduction to Sri Vidya. The second part of Hindu Goddesses – "Practices" deals with issues relating to goddess worship, festivals, and pilgrimages; providing an introductory overview of major festival pujas to goddesses such as Durga and Kali; goddess temples and Sakti pithas; localised forms of goddesses such as Kamakhya and Minaksi; and looks at the diverse forms of practice, from devotional and tantric rituals to temple and home worship. The final chapter examines the relationship between "Mother India" and Hindu nationalism, and looks at some relatively "new" forms of the goddess such as Santosi Ma, AIDS-amma (see this post for some discussion of AIDS-amma) and Manushi Swachha Narayani – the broom goddess.
Hindu Goddesses: Beliefs and Practices has a much stronger emphasis than the previous two books on ethnographic accounts of goddess practice, and, whilst textual sources are not ignored, Foulston & Abbottt also give much insight into material culture and the relationship between goddess theologies and everyday life in contemporary India. If you're after an introductory book on Hindu goddesses in all their diversity and glory, I'd recommend Hindu Goddesses: Beliefs and Practices highly.