A Phallic Knight – I
Back in 2011 I gave a lecture at Treadwells Bookshop for LGBT History month on Richard Payne Knight's A Discourse on the Worship of Priapus under the title "A Phallic (K)night". Due to one thing and another, I never got around to writing up the lecture for publication, so I'm going to serialise it here. This first post provides a general introduction and outlines some biographical information on Payne Knight and some of his colleagues. In future posts I'll examine Discourse itself – and the circumstances in which it came to be written, and then go on to look at the role it played in the nineteenth-century enthusiasm for theories of "phallic worship".
Introduction
Richard Payne Knight's A Discourse on the Worship of Priapus and to some extent, Richard Payne Knight himself occupies a somewhat indeterminate space in which various themes – scholarly distance and eroticism (including homoerotic interests) paganism, phallic symbolism, neoclassical enthusiasms and pornography uneasily co-exist.
The book, which first appeared in 1786, has had a checkered history. It's combination of scholarly discussion with polemical anticlericalism led to Knight being branded as a sensualist, a corrupting influence, an aetheist – and of having sodomitical tendencies 1 Discourse itself, whatever Knight's original intentions for it, became highly sought-after as a lewd (i.e. pornographic) book, yet at the same time inspired a new generation of scholars and travellers – some of whom were occultists – to re-examine the relationship between sexuality, the symbolic and religion in the late nineteenth and twentieth centuries.
Discourse also played a part in the development of modern paganism and occultism – and Payne Knight is approvingly cited by occultists such as Owen Morgan, Hargrave Jennings, Aleister Crowley 2, Dion Fortune, Gerald Gardner, Kenneth Grant – and scholars of pagan survival such as Margaret Murray. Knight's work also had an influence on both Freud and Jung. The book still frequently cited today by pagans and occultists as evidence for the antiquity and survival of pagan symbolism and practice – and of the ubiquity of sexual magic.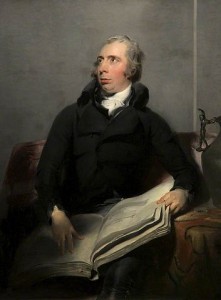 Relatively little is known of Payne Knight's early life. His father, Thomas Knight was the domestic chaplain to Francis, Lord Deloraine and later given the livings of Ribbesford and Bewdly in Worcestershire by Lord Powis. His mother, Ursula, was a servant of Thomas whom he married in middle age. They lived at Wormsley Grange, a large manor house near Hereford. Richard Payne Knight was born on 11 February, 1751. He had two sisters, both of whom died before they were twenty, and a younger brother, Thomas (1759-1838). 3 Richard was not publically educated, nor did he attend university, but had various tutors. His father expressly forbade his son from studying the language of the "pagan ancient Greeks" whilst he was boarding with a tutor. He later inherited a legacy from his Grandfather, an Ironmaster: the Downton estate (included 10,000 acres of land) and an income of about £5,000 a year. Knight designed for himself a new house at Downton manor, which was completed in 1778 and became known as Downton Castle. He also established a house in London, at no.3 Soho Square, which is now occupied – ironically – by the British Board of Film Classification – the censors.
From the age of 21, Payne Knight undertook a tour of Italy and France (1772-1773), Switzerland (1776) and visited Naples and Sicily in 1777. This was known as taking "The Grand Tour".
In the eighteenth century, travel was considered to be an essential element of the education of a gentleman. The Grand Tour was not only about education – but also a way of setting men free to "be themselves" – a form of self-making. A consequence of the Grand Tour was a rapid growth in travel literature throughout the eighteenth century. It also stimulated an interest in landscapes – leading to the development of the Picturesque aesthetic movement, of which Payne Knight was a leading advocate (more of which another time).
In addition to its cultural possibilities, the Grand Tour was also attractive for the possibility of sexual adventures – including those of a transgressive nature. Catholic countries, and Italy in particular, were commonly thought in England to be a 'torrid zone' 4 – The anonymous "Satan's Harvest Home" (1749) argues that Italy is the root of all sexual debauchery – a place which made men effeminate and women masculine. 5 The idea that travel abroad (particularly to France and Italy) might effeminate and corrupt young men was a commonplace – and young men returning from travel abroad were often accused of having picked up "foreign" manners of ostentation and display. An example of the anxieties around the Grand Tour can be seen in Charles Churchill's The Times (1764):
With our island vices not content
We rob our neighbours on the continent;
Dance Europe around, and visit every court,
To ape their follies and their crimes import.
To diff'rent lands for diff'rent sins we roam,
And richly freighted, bring our cargo home.
Nobly adventurous to make vice appear
In her full state, and perfect only here….
ITALIA, nurse of ev'ry softer art,
Who, unfeigning to refine, unmans the heart.

and "Women are kept for nothing but the breed;
For pleasure we must have a GANYMEDE,
A fine fresh HYLAS, a delicious boy,
To serve our purposes of beastly joy"
In 1777, accompanied by two painters, Charles Gore and Philip Hackert, Payne Knight travelled from Naples to Sicily. Knight kept a diary 6 of his Sicilian travels, which says nothing of his private life but does indicate his hostility to the "sour mythology of the Christians" and the enslavement of the people in Southern Italy to "Priestcraft". Anti-Catholic sentiments – and drawing a parallel between Catholicism and paganism (particularly idolatory and superstition) was a common theme in eighteenth (and nineteenth-century) travel writing.
Knight is known to have visited the Villa of Cardinal Albani in Rome, and according to historian George Rousseau, it was during his stay at the Villa Albani that he first came upon the idea of composing a "sexual history of Priapus". The Cardinal Albani – himself a collector of antiquities – is well-known for having been the patron of Johann Winckelmann, and of possessing two likenesses of Antinous, which were much admired. 7 Rousseau portrays the Villa as: "an unrivaled nerve-center for combined antiquarian and homosocial activity." 8
In 1780 Payne Knight was elected as Member of Parliament for Leominster, and the next year, became a member of the Society of Dilettanti. The Society of Dilettanti was started in 1732 (one of the founders was Sir Francis Dashwood) as a club for young aristocrats who had met each other on the Grand Tour. Horace Walpole commented that the "real qualification" for membership was "being drunk". "Dilettante" was the term used by such travellers to explain their activities when suspected of sinister purposes, such as spying. The Society' original statutes were that new candidates should be introduced by a member whom had met them outside British territory. One of their toasts was "Grecian Taste and Roman Spirit" (also "Seria ludo"). From the 1750s, the Society produced important work on Greek architecture and topology, and also sponsored the expeditions of James Stuart and Nicholas Revett to Greece and Asia Minor and funded the illustrated volumes that presented their discoveries. According to Bruce Redford (2008), by the 1770s. the Dilettani had "become the foremost advocates of classical art and archaeology in Great Britain".
The eighteenth century saw a rise of interest in the Fine Arts. Not only was the acquisition and possession of art a form of social prestige, but also it was considered desirable to display at the very least an articulate enthusiasm for one's collection. This led to the growth of interest in theories of art. A passion for collecting Classical art grew up in the wake of the excavations at Pompeii and Herculaneum, and particularly the discovery of "erotic artworks" such as the 1758 discovery of a small marble statue showing a satyr in enthusiastic congress with a goat (see this post). Not only did such objects challenge prevailing scholarly interpretations of Greek & Roman culture, they also became collectable. The Italians, according to commentator Edward Wright feared for even their largest works of art – "were our Amphitheatre portable, the English would carry it off." There was also a brisk trade in fakes.
A case in point is Payne Knight's acquistion – in 1812 – of a cameo head of Flora, for which he paid £100 from an Italian art dealer, Angelo Bonelli. Knight believed it to be ancient, but a few years later Benedetto Pistrucci claimed it as his own work, carved in Rome as a forgery and sold to the dealer for less than £5. According to Pistrucci, Knight was furious. Knight commissioned Pistrucci to make a copy in order to judge which story was correct. Pistrucci's finished copy was the same in form but different in style and execution. Pistrucci demanded £50 and a formal acknowledgment that both gems were his, but Knight refused, maintaining that he was indifferent to the authorship, since it remained a beautiful gem, regardless of its provenance.
Collecting/Interpreting Antiquities – Knight's Circle
Sir William Hamilton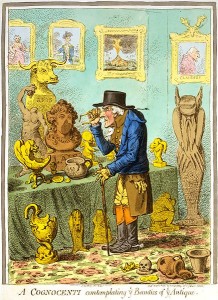 In 1764, Sir William Hamilton (1730-1803) was granted the appointment of special envoy to the court of Naples. Hamilton, the foster brother of George III, is credited with playing a major role in the dissemination of neoclassical taste and interest in antiquities in England. Hamilton was a man of wide interests, such as archaeology, geology and folklore. Throughout his three-decade stay in Italy, Hamilton send many accounts of the eruptions of Vesuvius to the Royal Society, some of which were published – for example Observations on Mount Vesuvius, Mount Etna and other Volcanos in 1772. 9 Hamilton's interest in archaeology was stimulated by the excavations at Herculaneum and Pompeii which had begun in 1748. He became an avid collector – not only of Greek vases and similar objects – which he helped create a market for – but also other artifacts of "primitive religion". He obtained, for example, a number of Polynesian objects which had been collected by Captain Cook on his voyages, and offered them to the King of Naples.
Hamilton published a four-volume catalogue and commentary of his collection. Entitled Collection of Estruscan, Greek and Roman antiquities (1766-67). A number of artists were employed for this project, under the direction of one Pierre Francois Hugues – the self-styled "Baron d'Harcanville" – art dealer, occasional pornographer and theorist whose work would play a major inspirational role in Knight's Discourse.. D'Harcanville tried to interest Winckelmann in Hamilton's project, but he declined. The project was delayed when, in 1770, d'Harcanville was expelled from Naples – possibly for publishing obscene material (see this post for a brief account of two of D'Harcanville's pornographic publications).
Hamilton's catalogue of vases was an influence on Wedgwood, who began to produce vases based on the illustrations of Hamilton's collection in his pottery factory. A major part of Hamilton's collection was later sold to the British Museum.
Hamilton shared Payne Knight's interest in ancient Greek paganism and his essay Account of the Remains of the Worship of Priapus was published together with A Discourse on the Worship of Priapus.
Charles Townley
Through the Society of Dilettanti Knight became friendly with the Catholic Charles Townley (1737-1805), another avid collector. Townley had spent his early years in France, and in 1767, undertaken the Grand Tour, where he began to collect antiquities. After returning to England, Townley continued to acquire sculpture – purchased through dealers such as Thomas Jenkins and Gavin Hamilton. Townley lived in Park Street, Westminster in a house filled with his collection of classical sculptures – which, by the 1780s, became a popular visitor attraction. He later became (1791) a trustee of the British Museum. After his death, his collection was sold to the British Museum for £20,000
Townley and Knight had much in common – politics (both were Whigs), antiquities, aesthetics, and anti-clericalism. Both were bachelors.
D'Harcanville had turned up, penniless, in London in 1777, and by 1781 Townley had taken him into his home to catalogue his collection. Knight appears to have found D'Harcanville's theories of serious interest, and agreed to subsidise the publication of D'Hancarville's Recherches sur l'Origine, l'Esprit les Progres des Arts de la Grece, which appeared in 1785 (in French), to much skepticism and criticism. That year, Knight was returned as MP for Leominster and consequently spent much of his time in London.
The central theme in Recherches was D'Hancarville's theory that all art in every culture originated from a single primitive religion, and that this religion was sexual in nature. D'Hancarville attempts to show that the image of a bull breaking an egg (the bull representing the generative power of the creator) can be found in every culture. D'Hancarville proposed that previous interpretations of the mythology of the Classic world – which relied on texts, were incorrect. Instead, D'Hancarville concentrated on the artifacts being revealed at Pompeii – vases, sculptures, coins and engraved gems. Recherches was a strong influence on Payne Knight's own Discourse – more of which in the next post.
Sources
Giancarlo Carabelli In the Image of Priapus (Duckworth, 1996)
Michael Clarke, Nicholas Penny (eds) The Arrogant Connosisseur: Richard Payne Knight 1751-1824 (Manchester University Press, 1982)
Whitney Davis Queer Beauty: Sexuality and Aesthetics from Winckelmann to Freud and Beyond (Columbia University Press, 2010)
Richard Dellamora Masculine Desire: The Sexual Politics of Victorian Aestheticism (University of North Carolina Press 1990)
Jocelyn Godwin The Theosophical Enlightenment (State University of New York, 1994)
Thomas Alan King The Gendering of Men, 1600-1750: Queer articulations (University of Wisconsin Press, 2008)
Mark Jones, Paul T. Craddock, Nicolas Barker Fake?: The Art of Deception (University of California Press, 1990)
Partha Mitta Much Maligned Monsters: A History of European Reactions to Indian Art (University of Chicago Press, 1992)
Bruce Redford Dilletanti: The Antic and the Antique in Eighteenth-Century England (J. Paul Getty Museum, 2008)
George S. Rousseau & Roy Porter Sexual Underworlds of the Enlightenment (Manchester University Press, 1987)
George S. Rousseau Perilous Enlightenment: Pre- and Post-Modern Discourses-Sexual, Historical (Mancheter University Press, 1991)
Robert Deam Tobin Doctor's Orders: Goethe and Enlightenment Thought (Bucknell University Press, 2001)